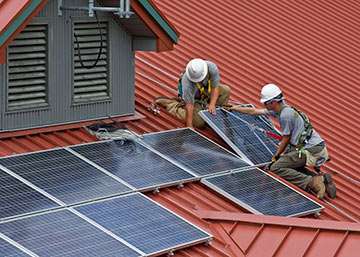 Solar rooftop policy more enlightened
12/11/2015
Nov 7 – McClatchy-Tribune Content Agency, LLC – Yuthana Praiwan Bangkok Post, Thailand
The Energy Policy and Planning Office (Eppo) will liberalise solar rooftop regulations for houses and other buildings to allow operators to sell an unlimited amount of electricity back to utilities.
Director-general Twarath Sutabutr said the Energy Policy Council approved freeing up all government control of solar rooftop and liberalisation policy last month, with the change expected to be announced soon.
The Provincial Electricity Authority and the Metropolitan Electricity Authority will select the location of the new solar rooftop scheme they will buy power from, as they must check whether transmission lines adjacent to those solar sites have sufficient capacity to carry the power, he said.
The Alternative Energy Development and Efficiency Department is now holding public hearings for the solar rooftop scheme on standards for the solar installer, solar panel and the electricity meter.
Thailand launched its first solar rooftop scheme that allows operators to sell power back to the utility in 2013, offering a combined capacity of 200 megawatts, which attracted 10,000 house and other building owners to join the scheme.
However, only 82 MW have been sold on the grid, while 91 MW are under construction.
In fact, the city plan put the solar scheme behind its commercial operation due date, as all those who wanted to join must be granted permission from the government before starting solar development projects.
Policymakers have tried for almost two years to remove the regulation to promote solar rooftops, as they produce neither emissions nor waste, Mr Twarath said ahead of the Eco Light and Solar Tech Asia Fair in Bangkok scheduled for Nov 19-21. The event will highlight LED and inverter systems for air conditioners that could save 30-35% of electricity consumption compared with traditional systems. Electric vehicles will also be introduced.
Meanwhile, the Energy Ministry is mulling a plan to sell surplus electricity to Myanmar from 2019-23.
Deputy permanent secretary Chavilit Pichalai said the country's power reserve would rise to 36-39%, above the international standard reserve level of 15%. A drop in demand, in line with weaker economic growth at a time when many private power producers are committed to developing power plants, will lead to the surplus.