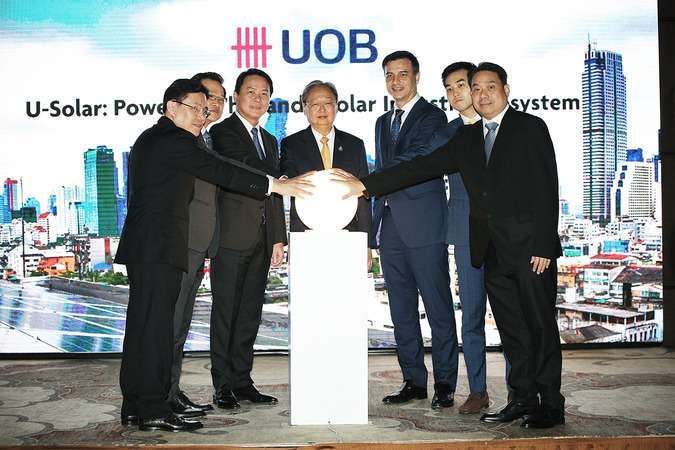 UOB (Thai) activates Asia's first solar industry ecosystem in Thailand
08/02/2020
U-Solar, Asia's first solar industry ecosystem, has been launched by United Overseas Bank (Thai) in Thailand to power the development and adoption of renewable energy across the country.
Through the U-Solar programme, activated on Wednesday (February 5), the bank connects businesses and consumers across the entire solar power value chain and helps each in their transition to a low-carbon economy. The programme is also available in Indonesia, Malaysia and Singapore.In supporting the growth of the solar power industry, UOB provides solar project developers with solutions in green financing, project loans and portfolio financing, as well as cash management services. For Engineering, Procurement Construction (EPC) contractors, UOB offers end-to-end contract-based financing solutions, from bid bonds and letters of credit issuance to performance guarantees and working capital facilities.To promote the adoption of solar power by the end-users which include companies and consumers seeking solar power solutions for their factories, offices or homes, U-Solar offers a one-stop shop for them to plug easily into the services provided by UOB's partners across the region. They can also tap UOB's financing solutions for the installation, operation and maintenance of solar power systems based on their business or personal needs in making the switch to solar power.The launch in Thailand was officiated by Sontirat Sontijirawong, Minister of Energy and Anupap Kuvinichkul, Senior Director of Banking Supervision Department, Bank of Thailand.The government has been continuously promoting renewable energy in Thailand. It aims to increase the share of the country's total renewable energy power generation from 10 per cent in 2019 to 37 per cent or 20,755 megawatt (MW) in 2037. The Ministry of Energy has previously implemented several schemes, such as the feed-in premium and feed-in tariff scheme, to stimulate investments in the renewable energy sector.
Sontirat said: "The Ministry of Energy recently launched the 700MW community-based Power Plant programme to promote power generation from renewable energy resources, including biomass, biogas, as well as hybrid systems comprising bio-based, wind and solar energy. This programme is aligned with the Ministry of Energy's Energy for All policy that aims to enable the local community, especially low-income residents to participate in the production of renewable power sources for additional income. Through the programme, we not only accelerate the development and deployment of renewable energy but also help to boost the livelihood of local residents".Tan Choon Hin, Chief Executive Officer and President (UOB Thai), said: "With the Thai government driving the growth of the renewable energy sector, we believe the U-Solar programme can help contribute to the progress of the solar power industry in Thailand. By encouraging the development and the adoption of solar power among local corporates and consumers, we can play a part in building a greener future for the country".UOB (Thai) has partnered with leading integrated energy solutions company in Asia-Pacific such as Banpu Public Company Limited, and EPC contractors including Bangkok Solar Power and KG Solar, to offer businesses and home owners installation, commissioning, operations and after-sales service packages for solar power systems.To help with the costs of installing and maintaining the system, UOB (Thai) will provide businesses solar equipment financing up to Bt45 million and home owners zero per cent interest installment plan for up to 24 months.
This post has been published by Bangkok Post