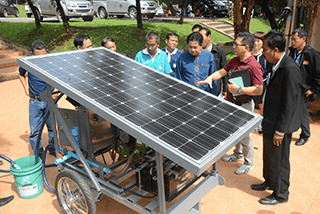 Chiang Rai to promote alternative energy to achieve farming cost reductions
28/08/2016
BANGKOK, 28 August 2016 — The province of Chiang Rai has been promoting the use of alternative energy to help achieve a sustainable reduction in farming costs.

Deputy Governor of Chiang Rai , Prajon Prajsakul chaired a seminar on Saturday on the use of alternative energy in the agricultural sector to help lower costs. The seminar was hosted by the Chiang Rai Farmers Council.

Among some 150 participants in the seminar were the heads and members of provincial farmers councils from 20 provinces, representatives of related state agencies and the private sector, as well as community leaders and farmers, who are interested in alternative energy.

Topics relevant to alternative energy, including solar power, wind power and hydro power, and their use in the agricultural sector were discussed and ideas exchanged in the hope of helping farmers pursue a sustainable profession while minimizing any adverse impact on the environment.

Mr. Prajon told participants that the looming shortage of energy and the reliance of farmers on refined fuel are resulting in higher farming costs.

Therefore, he believes that the adoption of alternative energy in the agricultural sector would be highly beneficial and help tackle existing problems while helping enhance farmers' competitiveness.